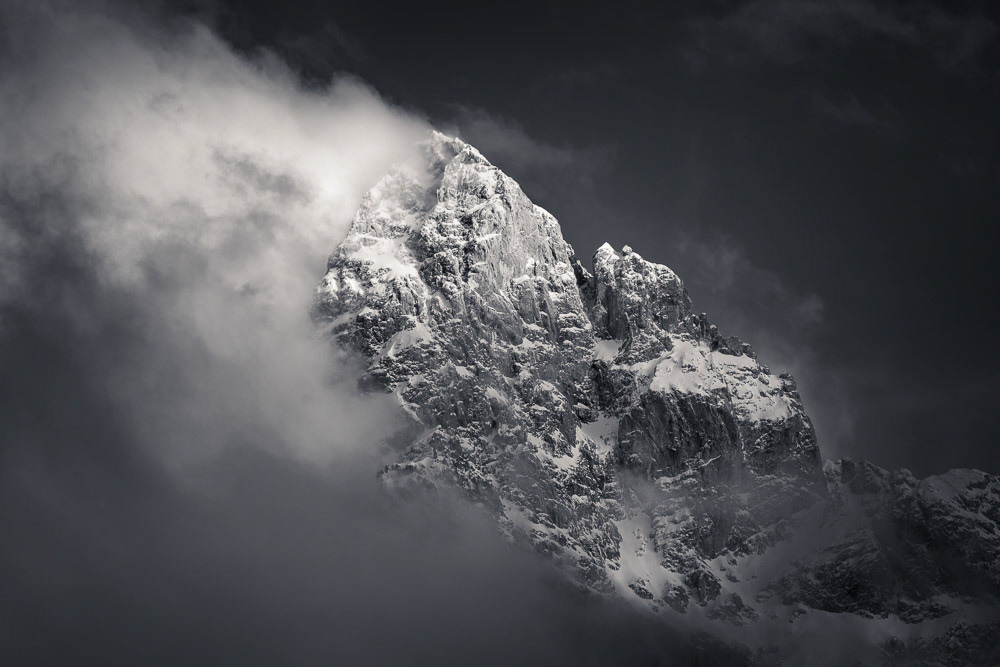 About the Location
This image of Mt. Zugspitze (2.962m) which is Germany's highest mountain was taken from the shoreline of famous Eibsee in southern Bavaria. I had visited this area several times while I was living in Munich and you will find tons of images from around there. Most compositions focus on the beautiful mountain lake with Wetterstein mountain range and Mt. Zugspitze as a backdrop.
Although the peak is the highest in the area its shape is not really outstanding viewed from ground level. And I have not seen a lot of images isolating the summit.
The image was taken in the afternoon in late May with nice weather conditions. There had been still quite a lot of snow left from winter while clouds had covered the mountain tops. Warm temperatures in the valley and blowing winds in the mountains created the conditions I had needed.
Thoughts on Composition
I was looking for a portrait kind of shot giving credit to Mt. Zugspitze in the first place. I had therefore used a telephoto lens at 175mm (APS-C) to get in close focusing on the mountain top only. The clouds created a beautiful frame when revealing the view on the peak only for a brief moment before covering it again. So taking this photograph had been a waiting game taking different frames while the clouds were moving through the scene.
I didn't want to soften the clouds too much using a long exposure time. And even though the clouds are frozen in position you can still perceive the motion of the clouds contrasting the majestic and snow-covered mountain.
Processing
This image is heavily processed on colors obviously. I was looking for a monochrome and dark finish. I had started with a black and white conversion and added a blue tint to the darker tones by using split-toning afterwards.
Also I have increased overall and local contrast quite a lot by decreasing luminance of the original blue tones. By further burning the outer areas of the image and dodging details in the center the attention goes to the peak and the blown clouds creating a rough and dramatic atmosphere.
From this perspective you would usually see the cable car going to the top of Mt. Zugspitze from the Austrian side of the mountain range. To focus on the mountain and to get rid of man-made structures I cloned out the cables while the summit station was already covered by the clouds.
Camera: Nikon D500 (1.5 crop APS-C)
Lens: Nikkor 70-200 f/4
Focal length: 175mm (approx. 260mm @full-frame)
Aperture: f/8
Shutter: 1/160s
ISO: 100
Taken on tripod
Here is another composition in portrait format showing more of the scene with the same post-processing applied. In this frame I liked the zig-zag line created by the ridge starting in the bottom-left corner followed by the blown clouds surrounding the peak ending in the top-left corner.