About the Location
This image was taken during our Iceland road trip a couple of years ago. The waterfall and mountain are located in a beautiful fjord on Snaefellsness peninsula in Western Iceland. Anybody planning a road trip through Iceland will stumble over this place at some point.
Thoughts on Composition
My photography experience had been limited back then and I was taking way too much different frames instead of photographing one image properly. Still I find this one composition to be quite decent and I would not change much about it when approaching the same scene from that particular perspective again. However to make this image work for me I took the best parts from two different images to create a pleasing scene.
Taken at 10mm (APS-C) the very foreground was close to the camera giving a good example of the vegetation in the area. The foreground has some good leading lines pointing to the waterfall and leading the attention through the mid-ground of the image. Following the cliff edge and the rocks the view ends at the mountain Kirkjufell in the background. The different layers create depth and lead the viewer through the scene from front to back.
Processing
The final image is a composite from two different RAW files (see the original images below). I am not doing a lot of composites but really wanted to come away with "something" from this area. In the end the final image is doing justice to this beautiful scenery and also it is recalling good memories of an exciting road trip - that is what I enjoy the most about looking at my own photography.
In the first image I had managed to get a decent composition of the waterfall which I used for the foreground. The image had been taken while it was still raining and it therefore lacked direct light looking dull and flat (see below).
The second image was taken a couple of minutes later with a different composition. The weather had calmed down and the diffused side light created depth by bringing out details on the background mountain. Although the composition of the two images is different the mountain and sky fitted the first image with only very little transformation applied. As you can see I did not change the position or scale of the mountain. All I wanted is to benefit from the better lighting conditions given in the second image. Only few minutes of waiting can really change the look and feel of the same scene and landscape photography will always be a waiting game.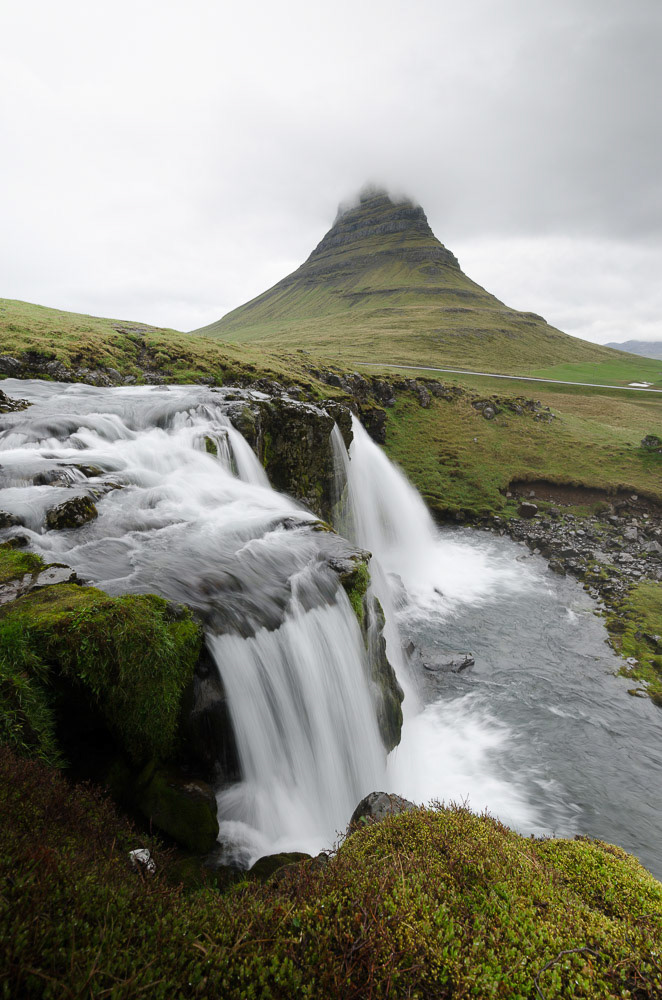 Camera: Nikon D7000 (1.5 crop APS-C)
Lens: Nikkor 10-24 f/3.5-4.5
Focal length: 10mm (approx. 15mm @full-frame)
Aperture: f/8
Shutter: 1/5s + ND filter (foreground image)
ISO: 100
Taken on tripod