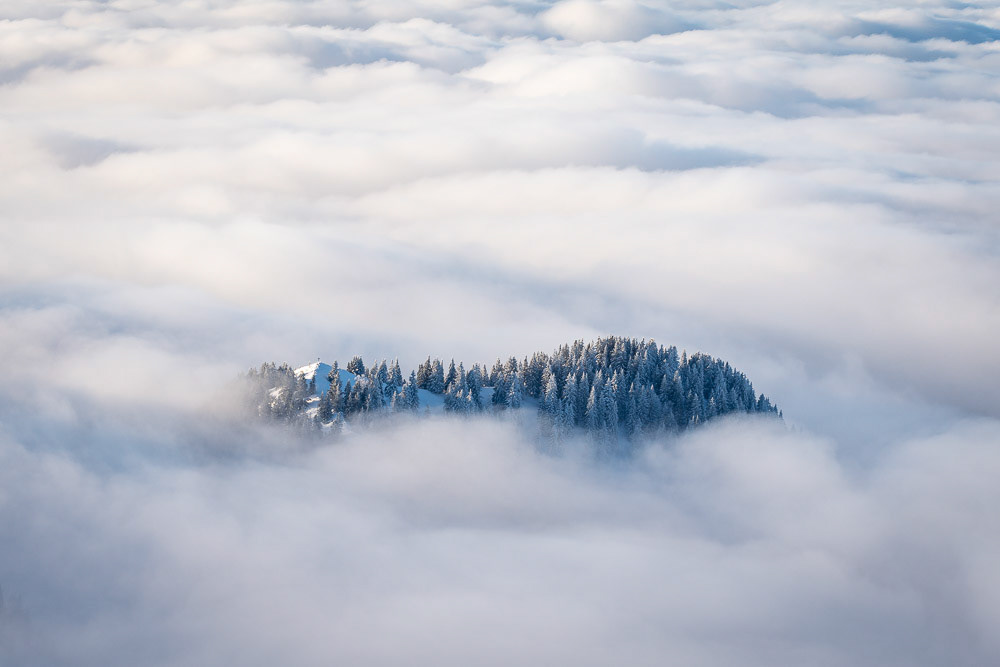 About the Location
Low hanging clouds had been moving through Alpine Foreland creating grey and dull conditions down in the valleys on a weekend in mid-December. We took the cable car near the city of Bayrischzell to get to 1.700m above sea level with perfect sunshine all around. Only the peaks of the surrounding mountains pierced through the dense cloud cover resulting in a mystic and surreal scene around our viewpoint.
Thoughts on Composition
I had focused on a single peak with my tele lens simplifying the scene and creating the 'illusion' of an island in the clouds. I had put the peak in different areas of the images starting dead center. In the end I preferred the version with the peak in lower half of the image with the clouds continuing in the distance creating a feeling of seclusion and vastness. It is up to the viewers imagination what is going on around the 'island'.
Processing
This images comes from a single RAW file. Due to the soft sidelight there was no high dynamic range and therefore no need for bracketing exposures for highlights and shadows.
I have reduced the white balance to give it a cooler look overall. At the same time I have used split toning adding an orange tint to the highlights only to emphasize the nice sidelight of the setting sun and to create a color contrast of cool and warm tones.
Camera: Nikon D500 (1.5 crop APS-C)
Lens: Nikkor 70-200 f/4
Focal length: 102mm (approx. 153mm @full-frame)
Aperture: f/8
Shutter: 1/250s
ISO: 100
Taken handheld (the 70-200 f/4 comes with an excellent VR)
Here is another image from the same vantage point captured with the telephoto lens looking to a different direction early the day. The cold temperatures really transformed the landscape into winter wonderland. While we took the cable car the guys on the other side had to hike and ski to reach this icy peak.