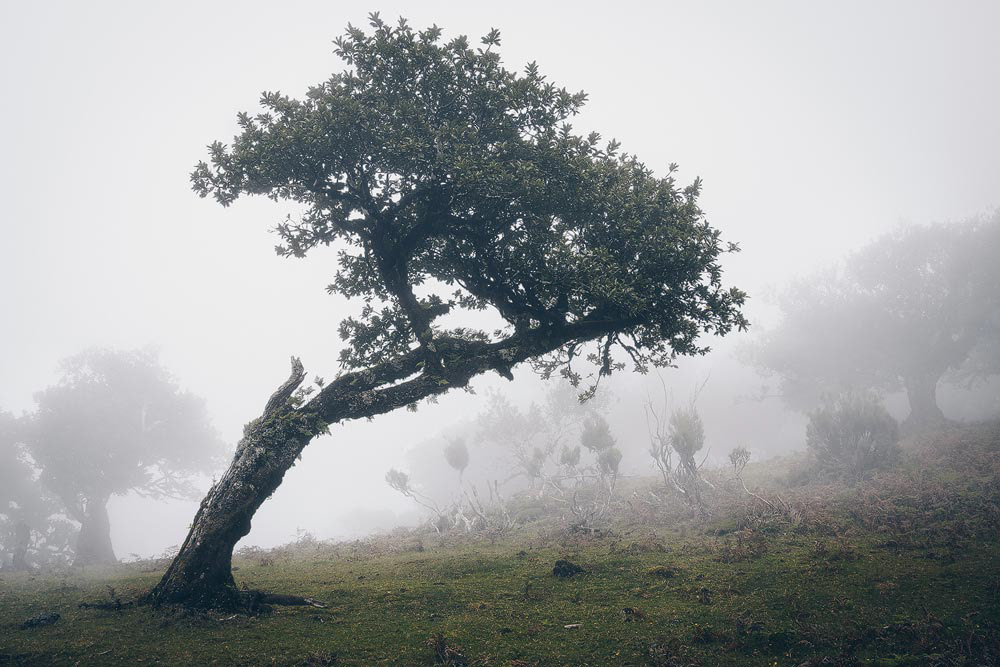 About the Location
Madeira island is famous for its ancient laurel forests. This image was taken in the Fanal area which is located in the western highlands of the island. It is directly accessible by car and the walk around is easy with minimal elevation gain. If you are visually attracted by trees and woodland this place is something special. I had never seen so many characterful trees with interesting shapes in such a small area before. Besides there is very good chance that low clouds cover the whole area in dense fog. This makes for endless photo opportunities and you might spend hours wandering around.
But prepare yourself for changing weather conditions. Although it is usually sunny and warm at the southern coastline of the island the clouds in the highlands might result in rain. Take a waterproof jacket and shoes as well as an extra layer for cold temperatures.
I love these moody kind of scenes and I did only explore and photograph a small portion of the area with the limited time available. I need to come back.
Thoughts on Composition
The hero of the image is the old laurel tree. I had liked its shape, the ferns growing on its trunk and how the tree was leaning over. I maintained the original aspect ratio to include the trees in the background on the left and the right side creating an idea of the surroundings and some kind of framing.
Although the image is mainly about that one interesting tree it needs the fog separating the foreground from the background while creating a muted atmosphere. I decided to use a shallower depth of field focusing on the hero tree in order to get even more separation from the background.
With more experience today I would probably take a lot more time arranging the laurel tree and the background elements. I still like the image for the aesthetics of that characterful laurel tree and moody atmosphere.
Processing
In order to emphasize the solitude feel of the scene I reduced the color temperature and the color saturation. I had also tried a monochrome version first but I preferred to maintain some of the subdued greens and earthy browns.
The scene comes with a high dynamic range from highlights to shadows due to the mist. I exposed for the highlights to prevent from loosing details in the fading areas in the background. It was no problem to pull up the dark tones in the foreground without effecting the overall image quality.
Camera Settings
Camera: Nikon D500 (1.5 crop APS-C)
Lens: Nikkor 24-120 f/4
Focal length:  24mm (approx. 16mm @full-frame)
Aperture: f/6.3
Shutter: 1/500s
ISO: 100
Taken handheld